IT staffing and staff augmentation services allow you to hire experienced software developers on contract, minus the hassles of hiring an in-house staff! Our expertise in IT staffing and staff augmentation spans across the most widely used software platforms and proprietary and free software domains.
We follow the right model to suit your budget and time needs. We are capable of providing resources-
ONSITE: Working at your office locations
OFFSITE: Working at our locations.
OFFSHORE: Working at certified delivery center locations in Noida, India
Staffing Process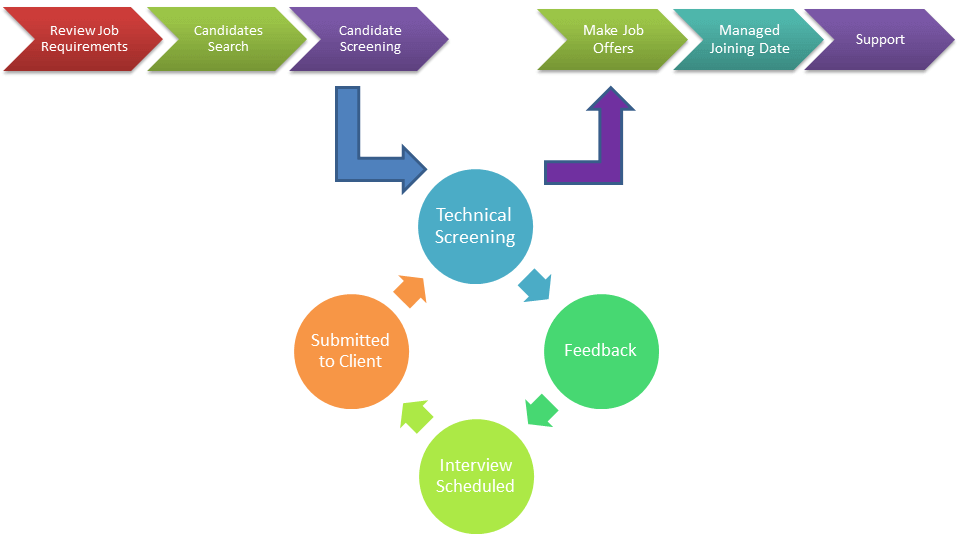 The cost savings when using the resource(s) from offsite/offshore is enormously considerable when compared to consultants based on site.
Contract Staffing : 4Bell Technology provides its internal employees &/or contractors as contract resources for any length of projects. Our quality, performance guarantee, price, and availability are one of the best in the industry.
Contract-to-Hire : Our Contract-to-Hire service provides our customers the option of hiring the candidate after an initial 3-6 months on contract. With Contract-to-hire, our clients have the opportunity to review the candidate's core skill level as well as 'on-the-job' interpersonal and presentation skills.
Permanent Staffing : A dedicated 4Bell Technology team will be at the disposal of our customers in need of permanent needs. We understand our clients' needs, pre-qualify all our technical professionals, and provide the right candidate. We help our candidates gain access to the hidden job market and stay with you every step of the way in the process of looking for a new position.